It has become known that Star Wars is to be celebrated on May 4th! Star Wars Day is celebrated nearly every day for some of us, but for others, this day is the perfect day for people to show off their passion for the Force! I feel as though this day has gotten a lot more attention over the last few years and that's exciting for Star Wars fans! Star Wars Day has even been the subject of an episode of The Big Bang Theory.
Many places have special events and discounts on Star Wars merchandise because of this day's growing popularity. Some companies even save some of their announcements on new merchandise and collectibles. One of these companies is Toys R Us. Although Toys R Us did their celebration a day early (May 3rd), it was not one to miss. They held a LEGO building event where kids and their parents could work together to build an exclusive mini LEGO. The LEGO piece was a Wookiee Drop Ship that you were given when you walked up to the table. The LEGO pieces were accompanied by an instruction sheet as well as a LEGO comic book involving Star Wars: Rebels characters. It was free to build your Wookiee Ship and it was a great way for a family to spend some time together preparing for May 4th.
ANOVOS is a company that produces very high-end costumes and they are selling a Stormtrooper costume kit at an unbeatable price! A Stormtrooper kit with a completed helmet can be yours for only $350 plus shipping as long as your order it prior to 11:59 P.M. Central Time on May 4th. If you order after May 4th, the kit price rises to $650 plus shipping.
In addition to this fantastic deal from ANOVOS, the LEGO Store had their own ways to get you to swing by their store. If you spend $75 or more on a Star Wars purchase, you receive an exclusive LEGO mini figure of Admiral Yularen. A free collectible poster was also given out with any Star Wars purchase. The LEGO Store also had stickers and bendable X-Wing hats for kids as well. I was even given the opportunity to get up close and personal and take some close-up pictures of the new TIE Fighter with exclusive mini figure.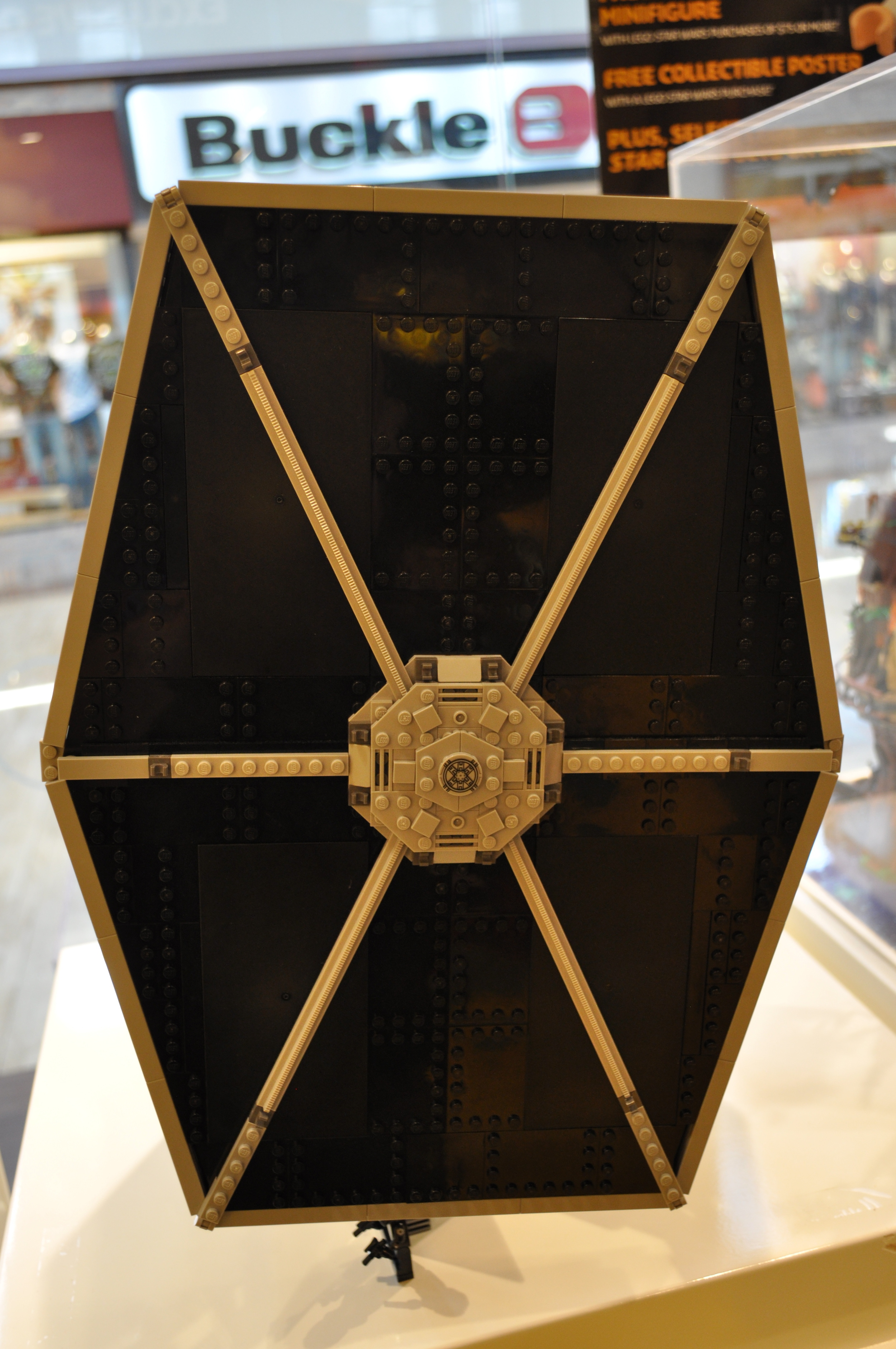 The Disney Store decided they wanted to do Star Wars day in a BIG way. The entire Star Wars assortment is 30% off through May 10th. The first 100 people at the Disney Store who made a purchase received a free special pin exclusive to Star Wars Day at the Disney Store. If you're not into pins, there was an exclusive Stormtrooper watch that was available for $8. The Disney Store also did many things to enhance the experience upon walking inside the store. There was Star Wars music playing and clips from the movies were on the screens. They also held special events for kids throughout the day including: A New Hope Story Time, Drawing R2-D2, Learning how to use the Force, and random trivia questions. Needless to say, the Disney Store was not a place to miss if you wanted a full May the 4th experience. I was even asked to help open the store by yelling "MAY THE FORCE BE WITH YOU!" really loud while holding a lightsaber.
Many other places had Star Wars events as well. On May the 4th last year, many cities around the U.S. held Star Wars trivia contests at pubs and bars with cash prizes. This year, many similar events were available for fans as well. Whether it's trivia or parties at a bar with themed drinks and costume contests, there was something for everyone. Other places that celebrated May the 4th included Hot Topic, Amazon, ThinkGeek, Disney's Hollywood Studios and more! May the 4th be with you!