So here we are at the end of the yearly gathering of geeks and nerds alike. As comic-con comes to a close this year you can feel the sadness because it's now over, but also we feel the excitement and anticipation for what is to come this December. Yes, everyone who attended could only speak of one thing...Star Wars. It was everywhere, more than I expected. Booths with merchandise, kids in costumes, die hards in line with me, and of course in Hall H.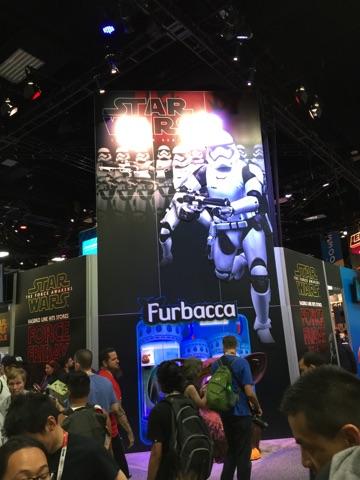 Even though Star Wars fans didn't expect there to be much more than what happened at Celebration Anaheim earlier this year, when Harrison Ford took the stage with the entire cast of the old and new, you could feel the disturbance in the Force. All doubt has been washed away. JJ surprised everyone by sending them to a special Star Wars concert after the panel and handing out free lightsabers along the way. This is how it should be.
The hasbro exclusive First Order Black Series Stormtrooper was the hot item and the hardest to get, of course. Han and Boba itty bittys were next on the list and a few other Star Wars exclusives made it worth fighting all the crowds and the hours of standing in line. Her Universe and We Love Fine had a group of people around at all times and Rey's speeder was just as popular as the last time we saw it in April.
As I ran up and down the aisles stopping to inspect every Star Wars item, I couldn't help but realize that I may no longer be able to simply buy a one day ticket to this show and finish getting my exclusives before lunch. A galaxy far, far away has taken hold of this yearly tradition and infiltrated to a point that you won't ever want to miss again. My advise, start planning for the next 4 Comic-Con's, or more. Our favorite universe has become an intricate part of this show, and everyone with midi-chlorians can feel it.
By Rachel Rossilli
Twin Suns Outpost
Also, here is The Force Awakens behind the scenes video released at San Deigo Comic-Con:
To see the full panel of The Force Awakens by "Flicks and the City":