Chicago Comic and Entertainment Expo (C2E2) returned to the Windy City this past weekend. Fans of many franchises flooded McCormick Place in the hopes of meeting their favorite celebrities, seeing an entertaining panel or maybe just doing some shopping. With the release of The Force Awakens just three months ago, the Star Wars franchise was clearly something people have not forgotten about.
Authors. If you are a fan of Star Wars novels, this convention was a great place to expand that interest. Multiple Star Wars authors were present at C2E2 and were kind enough to provide free giveaways and autographed copies of their work. John Jackson Miller, whose most recent work titled (A New Dawn), tells the story of how Kanan Jarrus and Hera Syndulla come to join the Rebellion. This is our first introduction to these popular characters from the animated television series, Star Wars: Rebels.
Claudia Gray (known for writing one of the best installments of The Journey to The Force Awakens series of books, titled Lost Stars) also signed at the Del Ray booth. Claudia is coming out with a new novel titled Bloodline, which is set six years prior to The Force Awakens. Double-sided posters were given away to help promote the novel, and Claudia seemed have a great time meeting fans to sign autographs. This novel will focus on Leia and is set for release on May 3, 2016.
Costumes. The 501st Legion (Midwest Garrison), Rebel Legion (Nar Shaddaa Base), and the Mandalorian Mercs (Nexu Clan) were out in full force. Con goers flocked to the costumed characters for photos and for the opportunity to mingle with their favorite characters. There's nothing like seeing a little kid's face light up upon first seeing Darth Vader.
Popular Merchandise. Funko POP figures had a massive presence at this particular con. A giant BB-8 Funko POP grabbed the attention of almost everyone. Funko has a very large series of Star Wars POPs that have grown in popularity over the last few years. In addition to promoting their basic POP figures, Funko promoted their Smuggler's Bounty box. This subscription box is available online and is sent to your house, but was also available at C2E2. The next box is due to ship in May.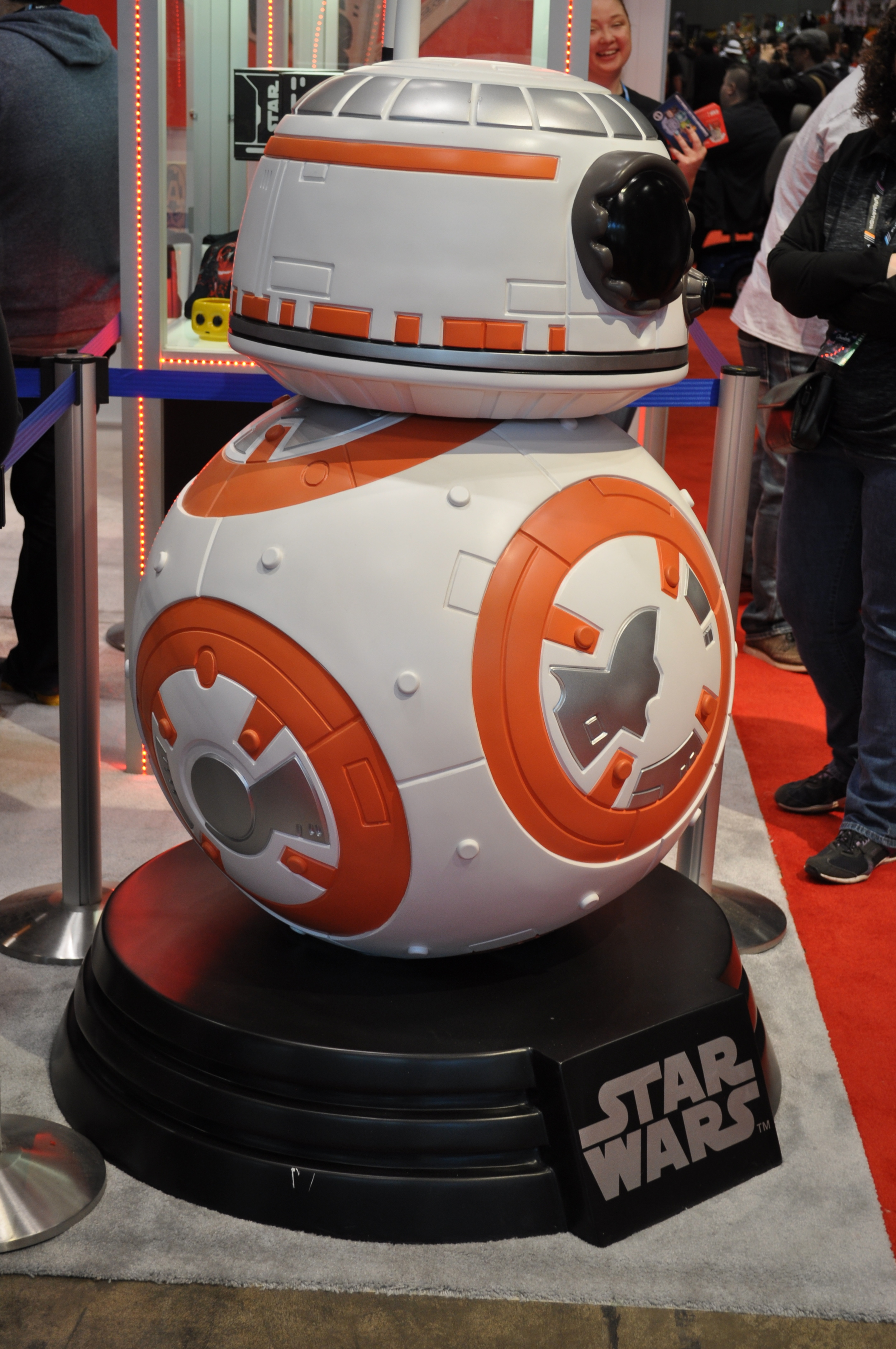 Guests. John Ratzenberger was a favorite among Star Wars fans at C2E2 this year. Ratzenberger portrays Major Bren Derlin in the Empire Strikes Back on the isolated ice world of Hoth. Starwars.com's Andi Gutierrez was also at this convention to participate in NPR's panel on Friday and to cover C2E2 for Starwars.com. Ms. Gutierrez can be found on a weekly segment on Starwars.com in which Star Wars: Rebels is reviewed, called Rebels Recon.
Exclusives. Convention exclusives are generally thought to be some of the most desired collectibles on the market. C2E2 had exclusive Star Wars Marvel comic books with variant covers. Variant covers have been very popular among collectors, and C2E2 helps deliver on that front. Make sure to do your research so that you're aware of all the convention exclusives so that you don't miss out.
The show floor at C2E2 is one of the most impressive show floors among current conventios. The event is put on by ReedPOP and showcases a red carpet throughout the Exhibit Hall. The aisles and exhibitor booths are spread out so that even during crowded times, you always feel as though you have enough personal space to move around. ReedPOP will also be putting on Star Wars Celebration London this July.
To see more photos from C2E2, view the slideshow below: