Pfeifer-Con 13 is the thirteenth installment of a private Star Wars party held at my house in northern Illinois, and is one of Chicagoland's largest private collections. Since the age of five, I have been a die-hard Star Wars fan and have been inspired by super collectors such as Steve Sansweet, Gus Lopez and Duncan Jenkins. The collecting community has provided me with many life-long friends that I wouldn't change for anything.
WHAT IS ON DISPLAY AT PFEIFER-CON?
SCREEN-USED ITEMS. Pfeifer-Con is the home to several screen-used items from Return of the Jedi. A sail barge panel from Jabba the Hutt's sail barge is framed and located in the Treasure Room. You can see how the sun and Arizona sand had taken it's toll on the fabric. There is also a swatch of fur from Wicket the Ewok's original costume worn by Warwick Davis in the Treasure Room.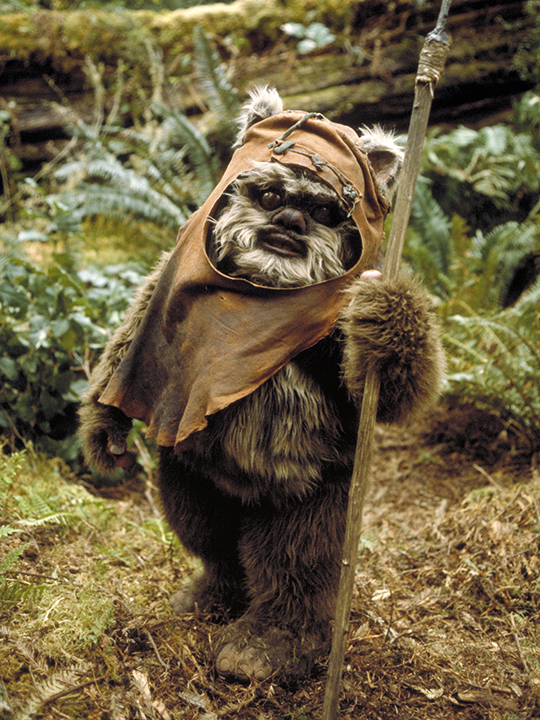 CREW ITEMS. Cast and crew members receive their own hats when working on Star Wars films. Pfeifer-Con is the home to one of the hats worn by stunt crew members who worked on The Force Awakens.
HIGH-END ARTWORK. Acme Archives has a large selection of high-end art, some of which can be found at Pfeifer-Con. "Destiny Awaits" by William Silvers, "Han Solo: Hoth Intruder" by Chris Wahl, and "Lovely Leia" by Tsuneo Sanda are all on exhibit in the collection.
MISCELLANOUS ITEMS. Stephen Stanton, a well-known voice actor that voices characters in Star Wars: The Clone Wars and Star Wars: Rebels, had a custom-made Wilhuff Tarkin uniform that he wore at conventions to promote Star Wars television shows. At Star Wars Celebration Anaheim, Stephen Stanton retired this uniform and donated it to the Pfeifer-Con exhibition.
Adrianne Curry's custom-made slave Leia bikini is on display in the lower-level Convention Room along with Stanton's Tarkin uniform. Curry was the first winner of America's Next Top Model and collaborated with Stan Lee on a YouTube show called Superfans. This bikini is a replica of the one Carrie Fisher wore in Return of the Jedi and was custom-made for Curry to wear at conventions.
INTERNATIONAL ITEMS. A handful of items from other countries can be spotted throughout the exhibit. The most recent addition is a complete set of stamps from England. As you can see in the photo below, a silhouette of the Queen is located in the top right corner of each individual stamp.
These items and many others will be on display at Pfeifer-Con 13. Be sure to mark June 25 on your calendar as Pfeifer-Con 13 will be the final installment in the Pfeifer-Con story. For more information on Pfeifer-Con 13, visit the Facebook page HERE