Star Wars: Return of the Weekends! It was another fantastic three days at Disney's Hollywood Studios celebrating the third consecutive weekend of Star Wars Weekends in Orlando, Florida. This weekend's celebrity guests featured stars from the prequels all the way to the original trilogy. Daniel Logan, Warwick Davis, Steve Blum, and Ashley Eckstein all joined James Arnold Taylor each day of this galactic weekend.
We all know and love Daniel Logan, who plays young Boba Fett in Episode II: Attack of the Clones and voices Boba in The Clone Wars. Daniel was joined by another fan-favorite celebrity guest, Warwick Davis, who plays Wicket the Ewok and a couple other characters in the Star Wars saga. The Star Wars: Rebels guest of the week was the voice of Garazeb Orrelios himself, Steve Blum. All of the stars participated in the celebrity motorcade each day and waved to their adoring fans along the way. It was very easy to see that they were all extremely happy and excited to be at Star Wars Weekends.
In addition to starring in the motorcade, Steve Blum was able to sit down for the Star Wars Rebels show at 1:45pm with James Arnold Taylor. Contrary to my prediction last week, we were not shown a new clip from Season 2 of Rebels this week. Instead, we were just shown the same clip from Weekend #2. Steve talked about some of his non-Star Wars voice-over jobs and also talked about Zeb's role in the rag-tag crew of Rebels. He briefly talked about how he and Dave Filoni worked together to formulate the right accent and overall voice for Zeb's character.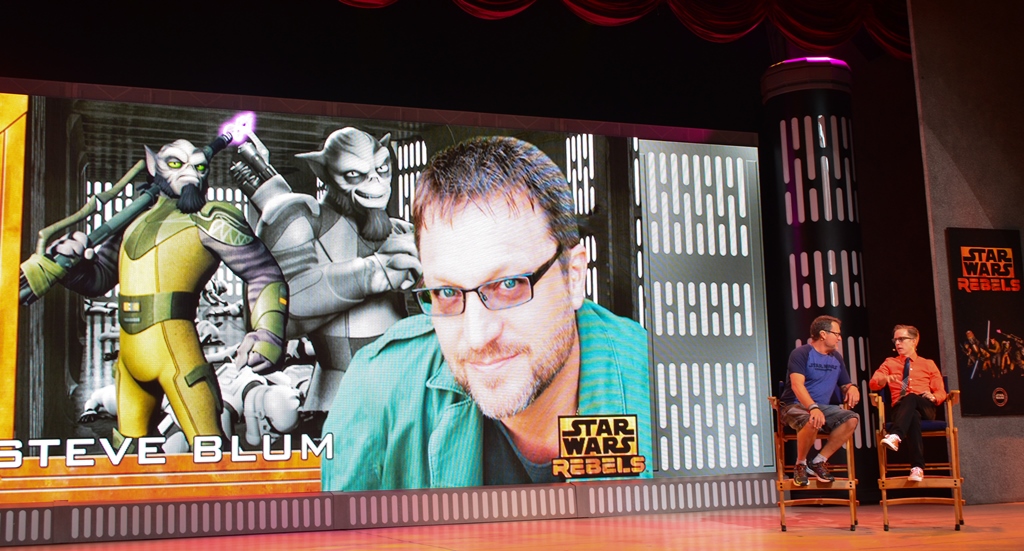 After the Rebels show, Daniel and Warwick joined James on stage for a fun interview show called Stars of the Saga at 3:30pm. Daniel Logan talked about some of his experience working on the set of Attack of the Clones and meeting Christopher Lee, who plays Count Dooku, for the first time. When Warwick made his appearance on stage, he said he had to go backstage for a moment and bring out a relative of Daniel's. He surprised the audience by tossing a Jango Fett helmet onto the stage and watched Daniel's confused face turn into laughter. Daniel grabbed the helmet and held it up to his forehead just like the iconic scene in Episode II. After the interview with both stars, they played a quick trivia game called Midichlorian Countdown and a lucky member of the audience was allowed to join Daniel's team for extra help. The show was very entertaining and it was nice to see some audience interaction.
At 5:15pm, Warwick hosted his own show called "An Ewok's Tale" that narrated his life story with the help of some audience members. About 10 audience members were asked to join Warwick on stage and play people who had very key roles in Warwick's road to stardom. This was another hilarious and fun to watch show, especially with the audience volunteer's involvement throughout Warwick's tale.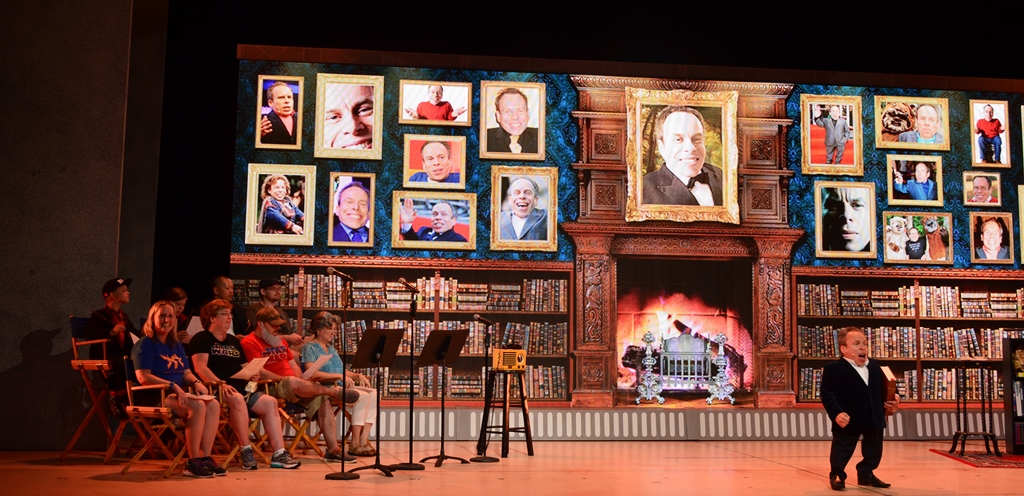 For Weekend #4, James and Ashley will be joined by Jeremy Bulloch, who also played Boba Fett, and Ray Park who is Darth Maul in Episode I: The Phantom Menace. You can also find exclusive Chopper and Zeb Vinylmation figurines available for purchase next weekend inside the X-Wing Collectibles store for $29.95 (includes both figures). May the Force be with you!