Star Wars Weekends is finally underway with the first weekend concluding a few days ago. Going to Disney's Hollywood Studios for something like Star Wars Weekends is a great way to kick off the summer! Not only were there celebrity guests, but there are many places to shop, a new Rebel Hanger Lounge, Star Tours, a celebrity motorcade, activities for kids, exciting shows, Symphony in the Stars (Fireworks) and more!
Let's begin with the celebrity autographs. For Weekend #1, Tiya Sircar (Sabine in Rebels), Amy Allen (Aayla Secura in Ep. 2 & 3) and Ashley Eckstein (Ahsoka Tano in Rebels and Clone Wars) were the three celebrity guests that were signing. Ashley had 1 signing everyday, Tiya had 2 and Amy had 3. It was surprising to see that of the three celebs, Amy Allen had the longest line. Waiting in line at 3 A.M. was fun as always as you get to meet other Star Wars fans and discuss things you are passionate about. The autograph signings in the past have been in tents surrounding Echo Lake, but this year, the signings were moved indoors. Celebrities got to sign autographs in the air condition and were able to avoid the rain (although the weather had no effect on the signings for Weekend #1). The autographs are right across the street from the ABC Commissary where food is available. Guests get a much more intimate experience with the celebrities this time as you enter the room by yourself.
The Rebel Hanger is a new addition to Star Wars Weekends this year. The Rebel Hanger is located in the Back Lot Express near the Jedi Academy Stage. They have this place decorated as if the Rebels had taken over an Imperial Hanger. TIE Fighter panels are leaning against walls, it looks like Sabine got to some of the Imperial posters, helmets are propped up and decorated and much more. Each table has a Star Wars themed center piece which definitely adds to the experience. This Hanger is a place where you can go to get food that is specifically Star Wars themed. Originally, they had the Rebel Hanger only available for reservations on the weekends during Star Wars Weekends, but they ended up opening it and making it available for weekdays as well. This is only available in the evenings and you need a reservation to attend. They have an exclusive X-Wing glow cube for drinks at the Hanger as well. If you aren't able to make a reservation, you can walk in to see the set up but there will not be any Star Wars related food. Please check back for a more detailed review on the Rebel Hanger after Weekend #5.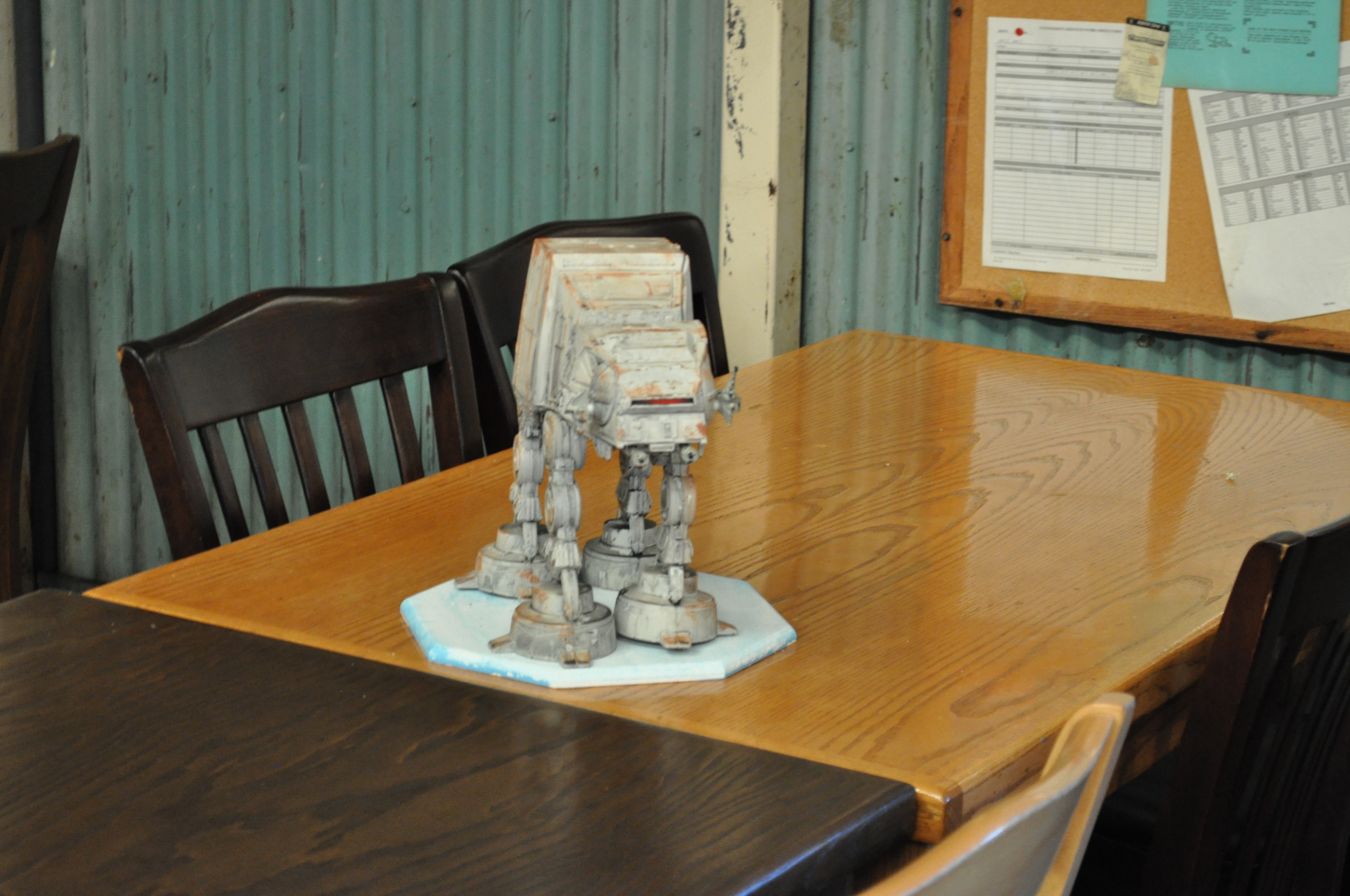 The shows are another great draw for fans for Star Wars Weekends. They added a new "show" this year called Rebels: The Ultimate Guide. This show was located in the American Idol Theater and it played every 30 minutes beginning at 10 A.M. Life size statues of Ezra and Chopper were located to the left of the screen and a life size statue of Sabine was to the right. This show is 22 minutes long (like a normal episode of Rebels) and was a recap show of Season 1. Prior to this show starting, Dave Filoni gave a quick introduction. This recap show was narrated by Kanan Jarrus and went through every episode of Season 1. This show is a great refresher on what happens in Season 1 of Rebels as well as a good way to get out of the heat/rain.
In addition to the Rebels: Ultimate Guide show, there is another Rebels show. This Star Wars: Rebels show is located in the Beauty and the Beast Theater. This show is hosted by James Arnold Taylor and starts at 1:45 P.M. daily. There was a brief intro with the Disney Sabine and Ezra. They were being followed by Stormtroopers and curiously, a short Stormtrooper provided some assistance to Ezra and Sabine. This trooper was James Arnold Taylor dressed in Stormtrooper armor! James showed a review of Rebels Season 1 on the big screen as he changed out of his Stormtrooper costume and then he brought Tiya Sircar out on stage. Tiya and James talked about everything from Tiya's work in Rebels, to her dog, to bringing a cake out for Tiya on her birthday. Chopper even came out and transmitted some Rebels Season 2 footage for the audience to see.
Stars of the Saga is the third daily show. The show starts at 3:30 P.M. with a pre-show by the Stormtroopers at 3:15 P.M. The Stormtroopers are funny and get the crowd excited. The Stars of the Saga is also in the Beauty and the Beast Theater and hosted by James Arnold Taylor. After the Stormtroopers did their thing, James Arnold Taylor introduced Amy Allen. Amy and James discussed how she got the role (she was a Production Assistant for Attack of the Clones) and what it was like to be painted blue. Then, Star Wars "royalty" was introduced. Ian McDiarmid came out and did his Emperor voice and talked about what it was like to be the baddest guy in the galaxy. After they both were interviewed by James, Jedi Mickey ran out onto the stage and the sang the "Mickey Mouse Club March" Song with Mickey hats on. There was also a final show called Obi-Wan and Beyond which is a show where James Arnold Taylor discusses his voice acting career and how he became Obi-Wan. Stay turned for pictures and coverage of this event after Weekend #5.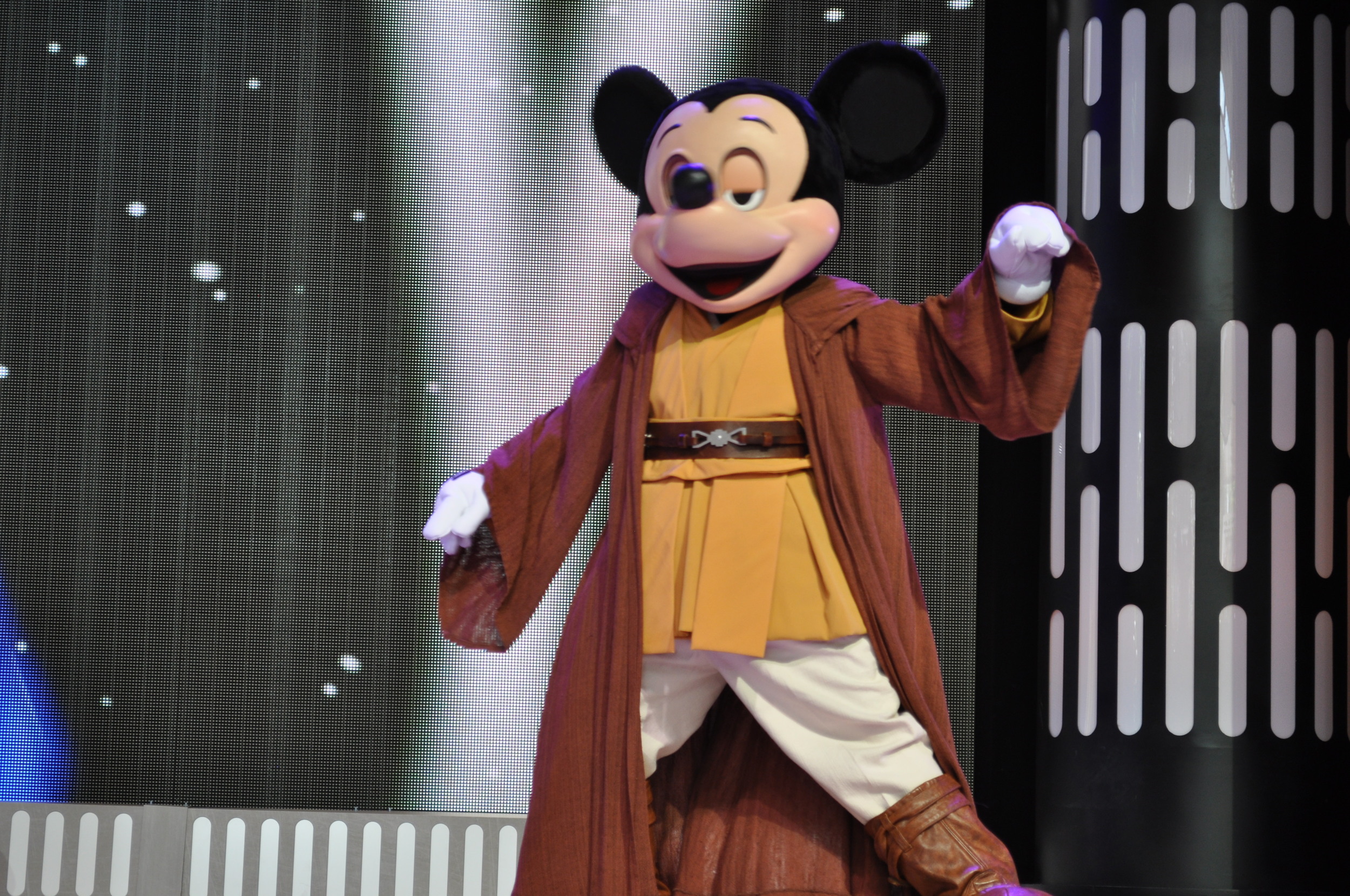 Disney also has Star Wars characters at different locations around the park. Most of the characters have a set location, but a few characters (like Jawas and Tuskens) roam around. Characters include: Darth Vader, Darth Maul, Boba and Jango Fett, Zam Wesell, Aurra Sing, Luke and Leia, R2-D2. Chewbacca and more. Jedi Mickey, Leia Minnie, Stormtrooper Donald, Vader Goofey and Chip and Dale Ewoks were also available for photos. These characters will take pictures with fans and sign kid's autograph books.
Let's face it, Disney is geared towards kids. There is PLENTY to do for adult fans, but there is many, many activities for kids at Star Wars Weekends. These events include The Jedi Training Academy and The Padawan Mind Challenge. The Jedi Training Academy is something where kids can learn how to use the Force and take on Darth Vader. They are given robes and lightsabers (to borrow for the event) and taught in the ways of the Force on stage. The kids take turns fighting Vader and resist the Dark Side of the Force! The Padawan Mind Challenge is a trivia contest in which kids go up onto the main stage with two different color lightsabers. A question is asked and based off of what they think is the correct answer, they raise a certain lightsaber color. This year, they even had a family edition that was hosted by Ashely Eckstein.
As always, the Star Tours ride is a big attraction during Star Wars Weekends. All you have to do is look for the big AT-AT and you have made it to Star Tours! This is definitely something that you can ride multiple times in a weekend because the ride is always changing. The planets, intros, and hologram in the middle all have different variations. Make sure to check it out if you're going to one of the weekends coming up! The Celebrity Motorcade is always a big hit at Star Wars Weekends as well. It's always a good idea to get a seat for this early if you want good pictures. The parade includes the celebrity guests for the week, the 501st and Rebel Legions, Disney characters and Star Wars characters.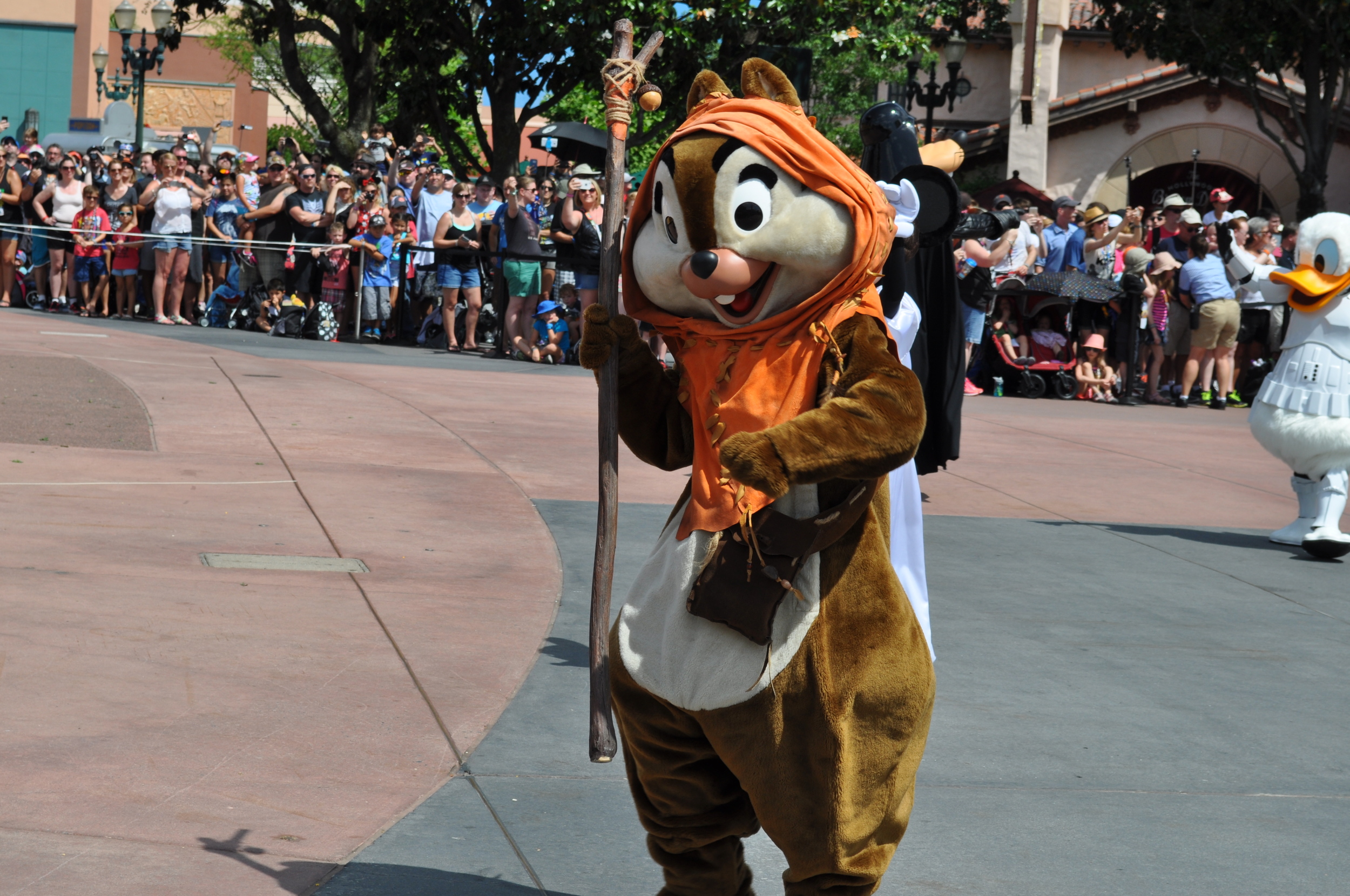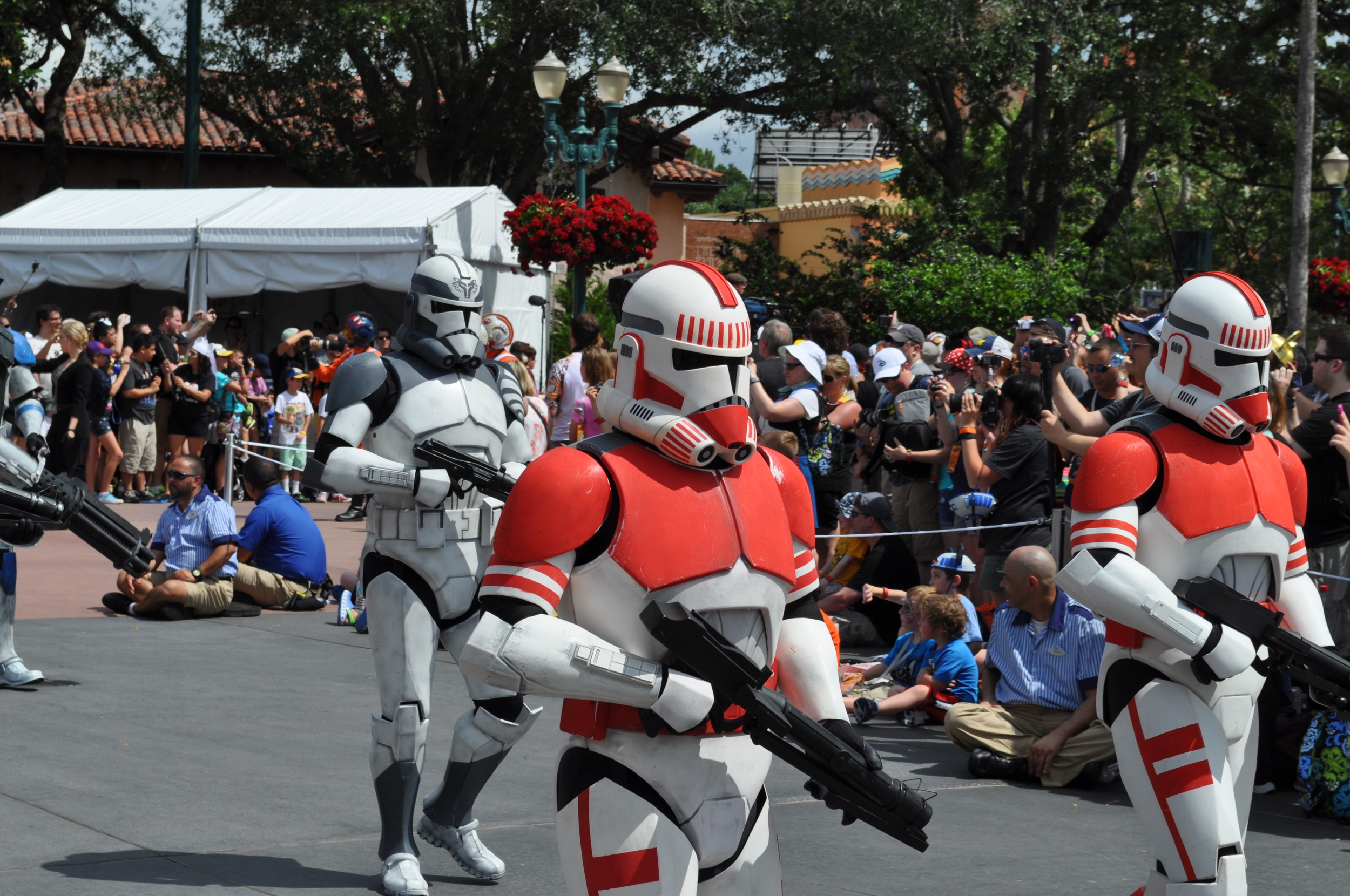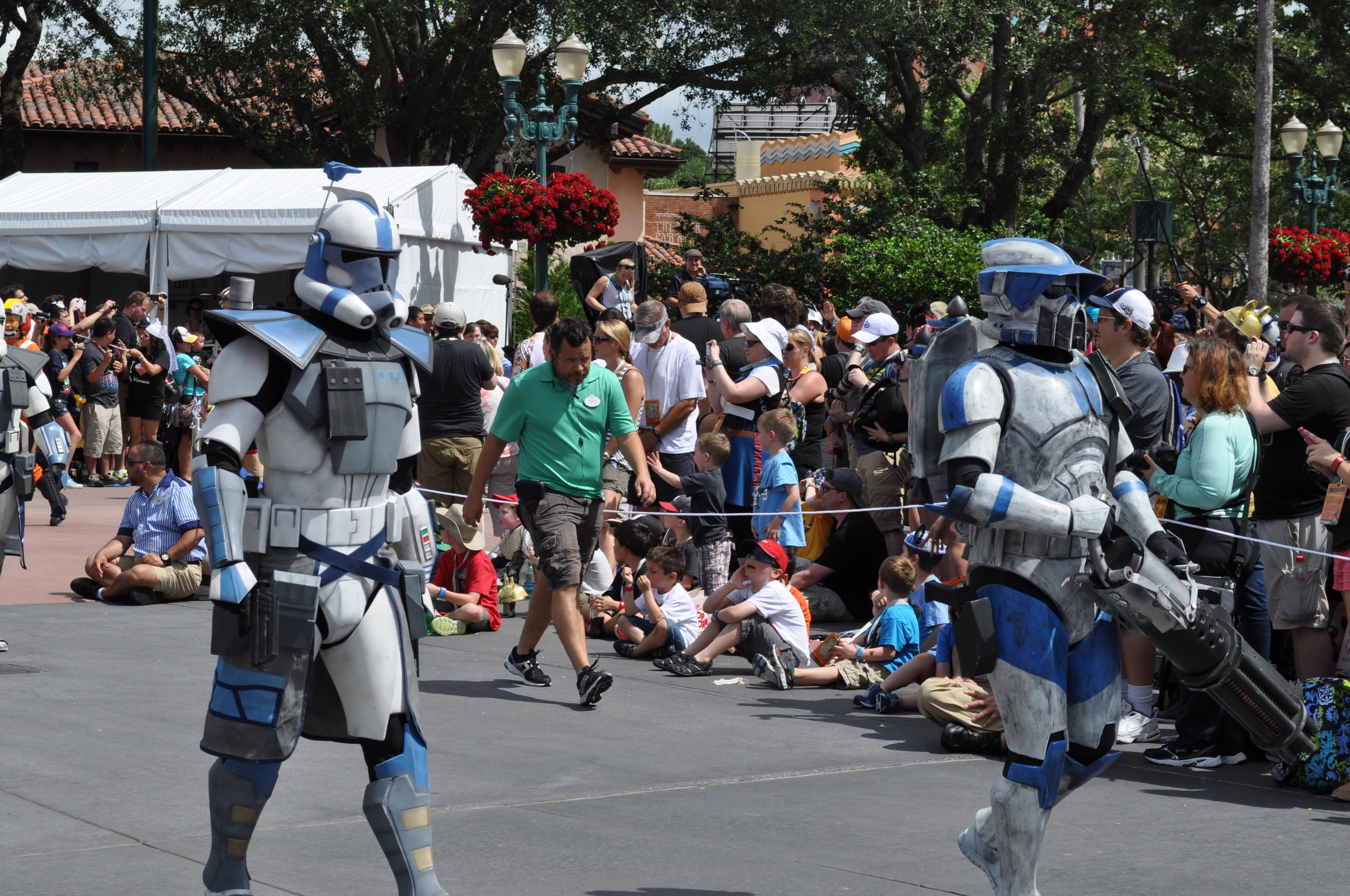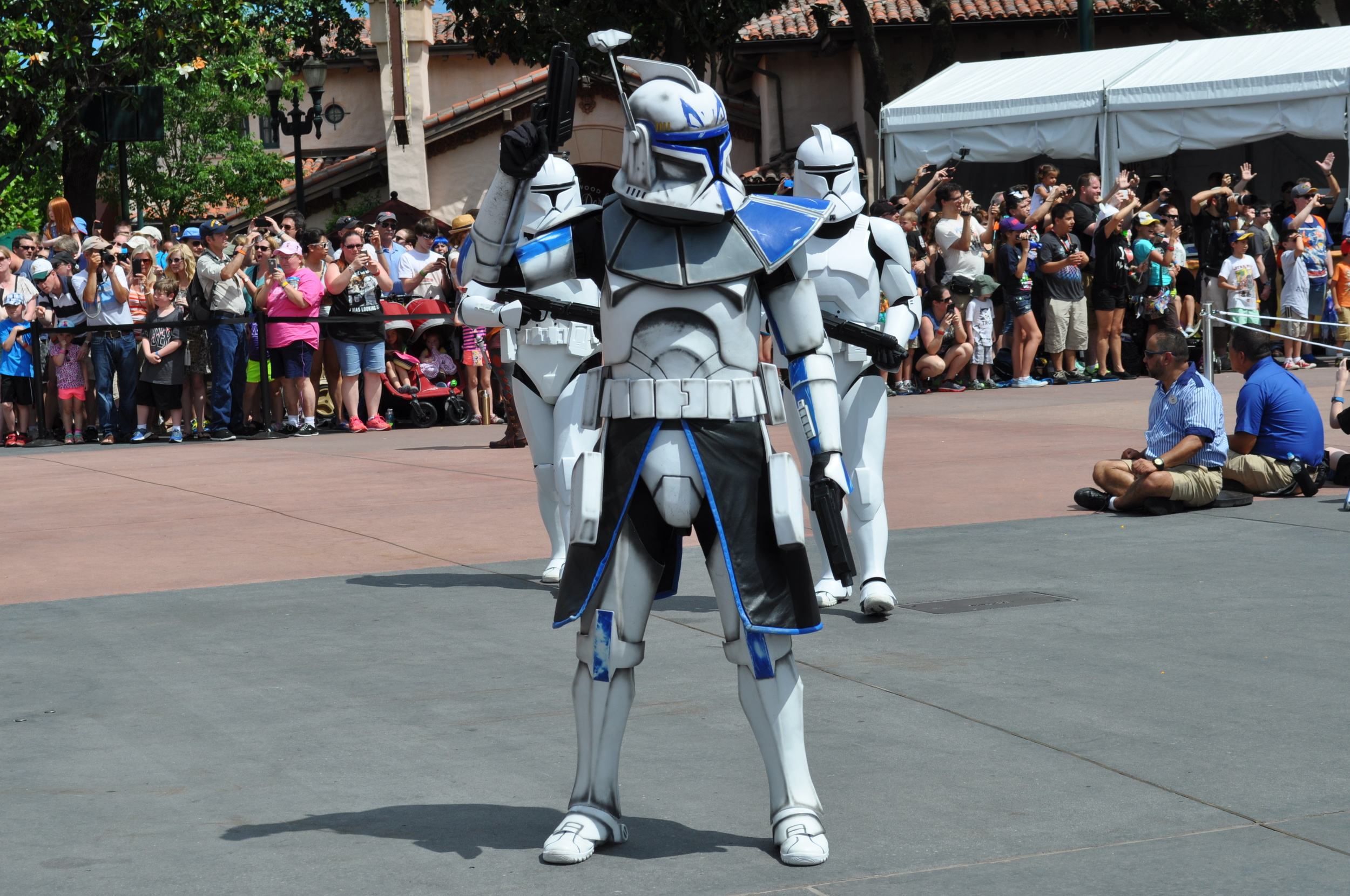 Unfortunately, all days at Star Wars Weekends must come to an end. There is no better way to spend your final hours of Star Wars Weekends than attending Symphony in the Stars (a fireworks show). This is a show that is hosted by James Arnold Taylor on the main stage. Prior to the fireworks there is a show involving a lot of the Star Wars characters on the main stage. In order to get good seating in front of the stage, this is something that you'll need to arrive early for. To keep people entertained while they wait, DJ Lobot is up on stage playing music and getting everyone excited for the event! Once the pre-show is over, the fireworks begin and the grand finale is unforgettable!